Aug 12
KerryUncategorized No Comments
For the past year and a half I have been working with an organization in North Brooklyn called St Nick's Alliance to create a book bus. With the area having the highest child poverty rate in the city, we have decided to focus on literacy as a community building tool. It began with the findings of a 20 year study by Mariah Evans, which "showed that the difference between being raised in a bookless home compared to being raised in a home with a 500-book library has as great an effect on the level of education a child will attain as having parents who are barely literate (3 years of education) compared to having parents who have a university education (15 or 16 years of education)." So how do we get 500 books into the homes of our kids? How do we create a culture of reading?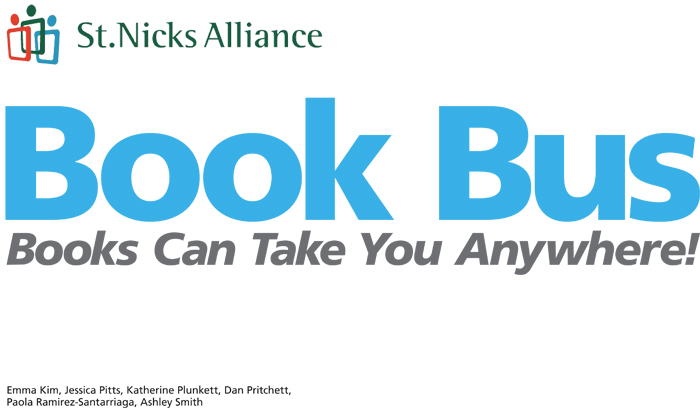 After countless focus groups, community meetings, input from parents and of course, kids, we decided to launch a community bookmobile. Graduate students at Pratt spent a year designing the bus and we have been promoting it at community events including GoGreen, Williamsburg Walks, and Grand Street Walks, as well as professional groups such as Tristate League of Professionals (connected with Pratt facilities department).   We've also engaged pro bono assistance with branding and logo development and ramped up our fundraising capacity. And now we need The Desk Set!
In addition to a hybrid library design, we have plans to include programming and parent outreach. With the design of the bus, we hope to have story times, crafts, readers advisory, literacy tips for parents, and more. Everyone working on this project has agreed that it is absolutely key to have librarians involved. If you are interested in being part of this community project in any way, please contact me at kerry.roeder [a] gmail.com  You can also read more about the project, here in Greenline.